Bank Junction – trial closure
The biggest single issue affecting Walbrook Ward is the trial closure of Bank Junction to all traffic between 7.00am and 7.00pm except buses and cyclists which commenced 22nd May 2017 and is designed to improve road safety and air quality at the heart of the City.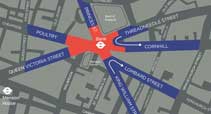 It has received a mixed reception from those that work and live in the City and those that travel through it.
Most people understand that something needs to be done.  It is important, however, that the widest range of views is taken into account alongside traffic modelling and results from the trial itself.
Further details of the trial closure can be found on the Corporation's website on Bank Junction and you can complete an opinion survey via that page.
You can also email us with your views or you can email them direct to the Corporation at: bankarea@cityoflondon.gov.uk or call the contact centre on 020 7606 3030.
Whatever your views, it is important that they are heard.
We do want hear your ideas on this or any other matter affecting you and the City so please do contact us.