Bank Junction – Bank on Safety – experimental scheme becomes permanent
On 13 September 2018 the Court of Common Council voted to make the experimental scheme permanent.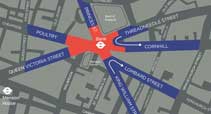 Prior to the experimental scheme, Bank Junction was heavily used by all road users and had a high collision and casualty record that required critical improvements. Bank on Safety provides much needed safety benefits while long-term solutions with wider objectives are being developed.
The safety scheme focuses on restricting the number of vehicles that cross Bank Junction during the working day to significantly reduce the number of collisions.
Between the hours of 7am-7pm Monday to Friday, only buses and pedal cycles will be able to cross the junction or travel westbound into Cornhill. This is when 75% of the collisions occur.
A report detailing further long-term options, developed from the experiment's feedback, will be presented to City of London Committees in 2019.
The trial received a mixed reception from those that work and live in the City and those that travel through it – the main issue being the ability for taxis to drop off and pick up in the immediate vicinity of the junction. We continue to work with businesses to look for ways to improve this.
Further details on Bank on Safety including common questions and answers can be found on the Corporation of London's website by clicking here.
We do want hear your ideas on this or any other matter affecting you and the City – please do contact us.